Join Sterling Hot Yoga in Lexington, Kentucky for our 11th Teacher Training focused on Power Vinyasa Hot Yoga

Sterling Hot Yoga is excited to our 11th #Vinyasa Hot Yoga teacher training at SterlingHotYoga in Lexington, Kentucky! Our 200-hour programs are the foundation for your yoga exploration and teacher training journey and serve as a powerful framework for any advanced training. Whether your Teacher Training journey is rooted in a commitment to yourself, your future as a teacher or your love of all things yoga, students who have gone through our program have increased their strength, clarity and confidence in their practice and themselves
This is a unique opportunity to learn how to teach life changing yoga with the convenience of an eight weekend training.  Join the energy of our growing community of teachers teaching vinyasa yoga. Learn to live a celebrated life and help your students and those around you do the same.
This comprehensive training will cover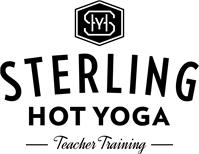 REGISTER NOW FOR THE 200-HOUR REGISTERED YOGA TEACHER VINYASA 2019 TEACHER TRAINING!
Who:
What:
200 Hour Registered Yoga Teacher Training with Yoga Alliance
Start with this foundational 200 hour Vinyasa yoga teacher training program to deepen your practice, broaden your understanding of yoga, and learn how to teach.
Training is an opportunity to open your heart, expand your mind, ignite your passion, and find your tribe.
When:
Saturday & Sunday
8:00am – 7:30pm
2019
January 12, 13
January 26, 27
February 2, 3
February 16, 17
March 2, 3
March 23, 24
April 13, 14
April 27, 28
Where:
Sterling Hot Yoga Lexington and a professional meeting space nearby studio.
185 Pasadena Drive #140
Lexington KY 40515
(859)402-2211
How: 
Rates:
$500 deposit to reserve your space
$2699 paid in full by October 31, 2018
$3199 paid in full by January 1, 2019
The 200-hour Teacher Training program at the Sterling Hot Yoga is an comprehensive, non-dogmatic approach to vinyasa-based Hatha yoga. We are registered with Yoga Alliance. Registration is open to trainees who are sincerely interested in deepening their practice and understanding of yoga. Each trainee will teach daily and during the last week at least two, 1-hour classes. Upon completion of this 200-hour training, trainees may register with Yoga Alliance as a RYT.
Sterling Participants Will Learn:
Sequence, key terms and phraseology of instruction
Proper alignment, benefit, potential risks and rewards of each pose
Principles of anatomy and how they apply to each posture
How to see bodies and make corrections
Vocal variety while maintaining an authentic voice
Confidence though practice teaching
Yoga history and philosophy
Customer service aspect of a professional yoga instructor
How to put it all together to teach with precision and intent
Living the teaching lifestyle – how to manage money, stay healthy and avoid burnout as a yoga instructor
Sterling Participants Will:
Be comfortable public speakers
Possess skills for teaching
Know the benefits of the postures
Understand the body's physiology
Appreciate the importance of great customer service
Teach enthusiastic and knowledge-based classes
Help studio owners grow their business!
Graduates of this program are eligible to register as Registered Yoga Teachers – RYT 200
Sterling Hot Yoga works is a registered school with Yoga Alliance.
Trainees who complete the Sterling Training Program are eligible to register with Yoga Alliance as a Registered Yoga Teacher – RYT 200.
Visit SterlingHotYoga.com or apply HERE today.
 .
INCLUDED IN TRAINING PACKAGE
Homework assignments and other preparatory material
Training manuals
Small group training
Opportunity to teach several full classes before graduation
Opportunity to register for RYT-200 certification with Yoga Alliance
A Sterling t-shirt
Sterling gift and certificate upon graduation
PRICING INFORMATION
$2,699 per person early bird discount if paid in full by Oct 31, 2018
$3,199 paid in full by Jan 1, 2019
$500 one time non refundable deposit
Sterling Hot Yoga in Lexington, Kentucky
185 Pasadena Drive #140
Lexington, KY 40515
859-402-2211
Sterling Hot Yoga in Lexington, Has state of the art studios were purposely built with your comfort and yoga practice in mind.  Our studio is conveniently located on Pasadena Road off Nicholasville Road. Our amenities include a state of the art heating system, changing rooms with showers and the best retail boutique.  We offer Vinyasa hot yoga classes every day in addition to Sterling classes (Bikram Style), Iron Hour, Inferno Hot Pilates and Yin.  Our schedule includes 60 and 75 minute classes to meet the needs of our students and their busy schedules.  Our teachers teach with compassion and will motivate and challenge you so that you can receive maximum benefits each time you come in.
Sterling Hot Yoga in Lexington is a healthy, healing and clean environment. The owners kindly request that there be no smoking, drugs, alcohol, or pets on the property. We fully expect trainees respect these wishes.
REFUND POLICY
Deposits are non-refundable.
No refunds will be made after program start date
DATES 2019

January 12, 13
January 26,27
February 2,3
February 16,17
March 2,3
March 23,24
April 13,14
April 27,28
#yoga #hotyoga #hotyogateachertraining #yogatraining #teachertraining #Yogateachertraining #SterlingHotYoga #IndyHotRoom #namaste #CasaOm #ShareTheLex